If you have seen one of the performances and wish to fill out the Audience Survey, please click here
---
Workshop Productions:
All shows were free and open to the public on a first come, first served basis for the Library and church venues.

April 30, 2017
  (Sunday 4:30 PM) Library Program at the Shiley Special Events Stage of the Central Library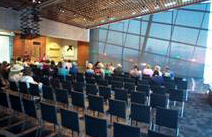 May 3, 2017
 (Wednesday 7:00 PM) Ohr Shalom Synagogue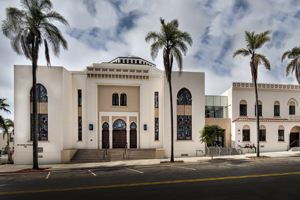 May 6, 2017
 (Saturday 7:00 PM) Christ Presbyterian Church (Carlsbad)
---
April 30th Staged Reading of the workshop production at a space generously donated by the San Diego Central Library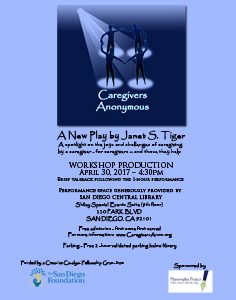 ---
Feb. 18, 2017
Staged Reading of the workshop production at a space generously donated by First Unitarian Universalist Church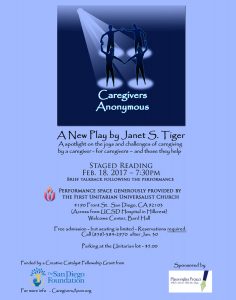 Click Here to view actors from staged reading
---
Audience Response
"The play expanded my understanding of caregiver situations""I knew of a Caregivers group that sounds very familiar""Janet Tiger did a beautiful job of receiving compliments AND ideas to help her play to grow even deeper. Thank you for taking on this enormous challenge of shedding a brighter light on one of the biggest secrets in family life.""I never expected or anticipated the stories presented."

"Keep going (AWESOME)""I thought the diverse caregivers were marvelous and who they were caring for.""Each person's story and circumstance are so very different but there is a secret-code for those of us who have been caregivers, and you see by watching this very well written play, more of the secrets are out. That's a good thing!"
---
Jan. 22, 2017  First table read with full cast and Director Patricia Collins
---
Oct. 30, 2016  Table Read First Draft Linda Vista Village Community Room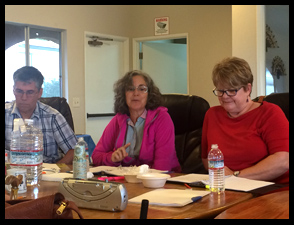 (L-R)  Joe Shea, Jennifer Silva Redmond, Tracey McNeil
To all the actors and audience- thank you!
Also, Kymri Wilt, John Carroll, Ina Felser, Diane Shea, Tom Furth, Susan Benninghoff
Jennifer Silva Redmond – Savannah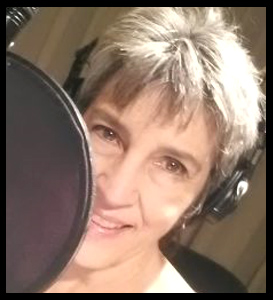 Connie Terwilliger is a full-time voice talent, performing in San Diego theaters as time permits. In 2016, she was Dinah in "Dixie Swim Club" staged at Lamplighter's Theater in La Mesa. She has performed at Scripps Ranch Theater, PowPac, OnStage Playhouse and in other small pop-up venues doing new works from local playwrights. Want more information? www.voiceover-talent.com